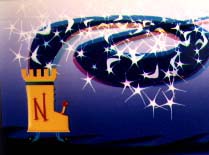 The Machine that Makes Anything
starting with the Letter N
Klooge's machine can create anything
that starts with the letter 'N'.
Needles and noodles, nuts and nits, etc.
Tweakit asks for Nothing. Suddenly the
lovely comet-stuffed sky starts emptying.
Can the Dynamic Duo save the universe from
an empty future?